Radiation Dosimeter Badge - In Stock & Ready to Ship!
When the Zombie Apocolypse arrives, The RADTriage Personal Radiation Detector is user friendly, stockpileable, always ready without a power source, disposable radiation dosimeter for monitoring high doses of 2-1000 rads of ionizing radiation.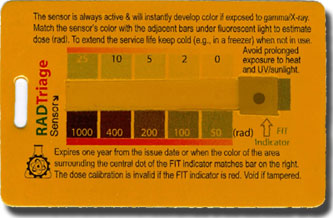 Get Your Personal Radiation Detector Now!

Can be worn around the neck like an ID badge, clipped to a shirt pocket or carried in a wallet.
When exposed to radiation from an RDD or dirty bomb , nuclear detonation or radiation source, the sensing strip instantly develops a permanent color change which cumulative and proportional to dose.
RADTriage allows the individual to immediately self-assess the dose to which they may be subjected.
The badge provides the wearer and medical personnel instantaneous and accurate information on radiation exposure to assess health risks to the victim and to emergency response personnel.
The badges are unrestricted and can be purchased by the general public with the exception of North Korea, Iran and Syria.
Government and bulk discounts are available.
Grants Available
RADTriage&trade, a radio-chromatic dosimeter, is included in the recently released FEMA SAVER Technote dated July 2008. The DHS Authorized Equipment List (AEL) includes RADTriage as Item 07RD-01-DOSS and is an allowable expenditure for the following grants:
State Homeland Security Program(SHSP)
Urban Area Security Initiative (UASI)
Buffer Zone Protection Program (BZPP)
Law Enforcement Terrorism Prevention Program (LETPP)
Intercity Bus Security Grant Program (IBSGP)
Chemical Buffer Zone Protection Program (ChemBZPP)
Metropolitan Medical Response System (MMRS)
Transit Security Grant Program (TSGP)
Port Security Grant Program (PSPG)
Training Center Pros, Inc. is a Service Disabled Veteran Owned Small Business. Our DUNS number is 032583797.
The badges are $29.95 each.
To request more information or to purchase badges, please fill out the form on the "Contact Us" page.